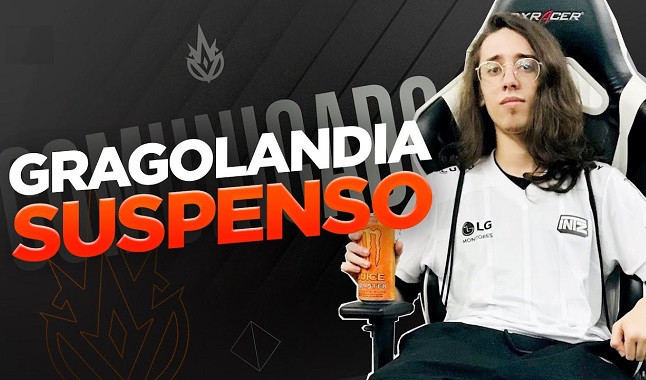 Academy league player Gragolandia has been punished for involvement in betting; stay in.
INTZ's professional player at CBLoL and Academy, Gragolandia, was punished for involvement with betting. The player was suspended for 10 official rounds after being caught participating in a betting live. The official information was issued through Riot Games Brasil itself, which revealed that Leonardo "Gragolandia" Dias was being suspended after becoming involved in eSports bets.
The case happened last Tuesday, where the player participated in the Baianalista board, of the streamer, Baiano. On the board, the participating guests evaluated the games of the CBLoL and the Academy, and while editing the board, Gragolandia encouraged Baiano and esA to bet on the KaBuM Academy, which was playing against FURIA Academy. It is worth mentioning that the Baiano program is sponsored by Betway.
Therefore, Riot Games Brasil reported that: "the participation of competitive athletes in content and transmissions sponsored by betting brands and / or that promote this practice, whether directly or indirectly, including hunches, is unacceptable, because one of the most serious violations in professional sport, directly affecting competitive integrity ". In addition, Riot and the organization of official competitions in Brazil, revealed that the player had violated rule 10.3 of the Rules of the 2021 Season of CBLoL and CBLoL Academy. Rule 10.3 reads as follows: "No member of a team or official in the 2021 Season may participate, either directly or indirectly, in bets with the results of any 2021 Season game or match."
Thus, Gragolandia is suspended for 10 rounds of each of the leagues. The player's return is scheduled for the number 17 round, while in the Academy tournament, for the number 15 round. In his position, the professional made the following statement: "Next family, Grongos rode for 10 games. I know what I did it wrong and I will bear the penalty, during those 10 games that I will be out of, I will continue training and come back stronger, nothing has changed. Counting back to Grongos in the competitive: 0/10."