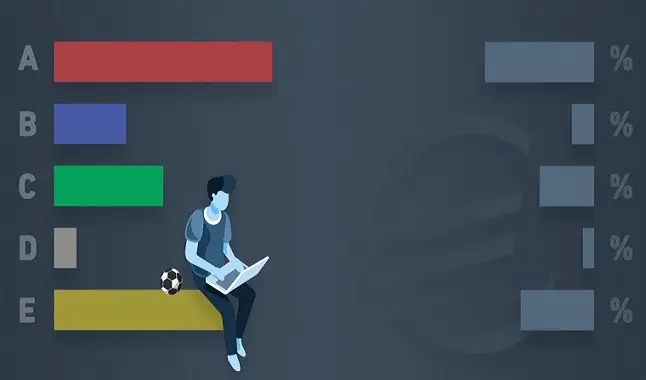 We will explain a little about the "dutching" technique in betting.
In sports betting there are several strategies and methods that can be applied at the moment we choose to bet on a certain event. One of these techniques is called dutching, and this is what we will talk about throughout this article. Unlike a "popular" bet, where we analyze an option that offers better value or advantage and put money on that team or player trusting that it will be the winner, in dutching we choose several results or possibilities to win in a single event and distribute our money and risk in those. We will explain in detail.

In
dutching
the idea is to bet on several results at the same time, calculating that regardless of the final result (as long as it is some that you selected) you have the same profit, or something very close to that. This technique is widely used in
horse and greyhound racing
, but nothing prevents it from being used in
football matches
, for example. Let's say you are interested in betting on a horse race with 8 competitors. What is easier in this case, to point to a single winner or to distribute the chance of winning this dispute in three competitors that you think you can win? The second option is the application of dutching, because this way you are choosing a greater number of probable results, even though your profit is obviously lower, but with more "security".
We will detail in the example below:
Let's say that you are willing to bet
$100.00
on a horse race, and you want to distribute that amount among three competitors. Basically you need to find possibilities that allow that regardless of the winner you can always end up with a higher value than the one played, that is, the profit. You rated and found some favorites to win with
odds of 3.50, 4.20 and 5.70
.
- $ 40.00 in the competitor with odd 3.50: return of $ 140.00
- $ 35.00 in the competitor with odds 4.20: return of $ 147.00
- $ 25.00 in the competitor with odds 5.70: return of $ 142.50
If among the 8 horses the winner is one of the 3 you scored, your profit will be practically the same, as you hear a
mathematical distribution of values ​​with the offered probabilities
. Obviously, if neither wins, you'll lose $100.00, but it is a technique for you to play with a higher level of security and with higher possibilities of extracting some money from that event.
There are
dutching calculators
on the internet to make your life easier, where you will put the amount to be wagered and the probabilities of the favorites you intend to bet on and it will promptly give you the exact numbers (values) that you will have to distribute on each selected odd, such as in the example above. With this, in a practical and safe way you have information to know if it is really feasible to have gains with this bet and the possible profits that each odd can offer. As our aim is to always make your life easier, dear bettor friend, below we provide a link with one of these tools.
CLICK HERE FOR DUTCHING CALCULATOR
If you like to operate your bets on
football
, one of the possibilities is the
correct score market
. This market generally offers some high odds, allowing you to choose some odds and extract profits if the result is one of those selected by you. The process is the same as in our example above, in horse racing, and
our calculator will provide you with the exact values ​​to place at each odd
, regardless of the amount you wish to bet. We believe that with these examples you have understood the concept of this method, but we suggest that you go further, as it can offer you other options, depending on your betting level. And we will, whenever possible, bring other techniques and benefits to you. A hug!
How to Hedge a Bet
Bet wherever you are through the best online bookmakers!