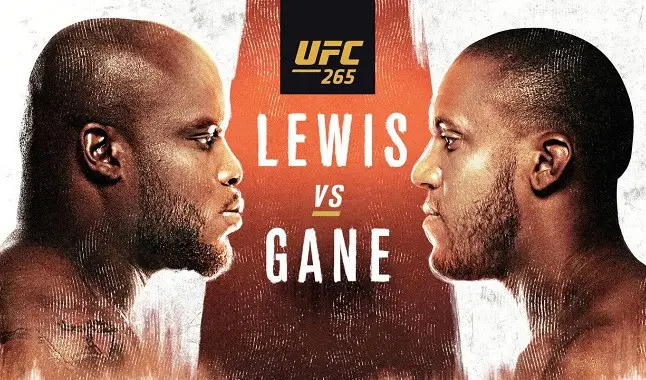 Complete card, information and betting tips for UFC 265.
This Saturday (7th) we will have UFC 265, with Frenchman Ciryl Gane facing American Derrick Lewis for the provisional heavyweight title dispute. Despite being classified as the main fight of the event, the night promises other big fights with plenty of emotions for MMA fans. One of them will be between two Brazilians, where José Aldo will duel against Pedro Munhoz, and whoever wins may win the chance to dispute the title of the bantamweight division. UFC 265 could have the great Amanda Nunes representing the country, but the fighter tested positive for Covid-19, being prevented from participating in the event.

Derrick Lewis vs Ciryl Gane
All eyes of the night are reserved for this fight, which promises to be spectacular. On the one hand we have
Ciryl Gane
, who hasn't lost a single fight as an MMA fighter, facing
Derrick Lewis
, UFC's knockout record holder. The American
Lewis
is very dependent on his specialty to get advantages against opponents, while Frenchman Gane shows a more varied repertoire. This makes the fight very strategic, as any hesitation could be fatal, as the two competitors are able to define the fight aggressively and quickly. By remaining invincible in his career so far, we believe that
Ciryl Gane
will be able to control his opponent's knockout force, being able to better apply his fighting style.
Bet: Ciryl Gane Wins by KO, TKO, DESC or Submission | @2.05 on Bet365
José Aldo vs Pedro Munhoz
This is perhaps one of the most balanced fights of the night, and it will be surrounded by expectations from
MMA
lovers. Winning this duel will be fundamental, both for
Aldo
and for
Munhoz
, accrediting the winner to dispute the belt in the category. They have similar styles, so much so that
Pedro Munhoz
praised his fellow countryman saying that he mirrors everything that José Aldo has done in the octagon over the last few years. In addition to having explosiveness and aggressiveness as trump cards,
Munhoz
usually wins his fights by submission, considering that nine victories in his history were that way.
José Aldo
, on the other hand, has all these attributes, but with much more experience and victories. Faced with such an even duel, we believe that this could bring you some advantage.
Bet: José Aldo wins | @1.90 on Bet365
Michael Chiesa vs Vicente Luque
This is neither the first nor the second main fight of the night, but it is still pointed out as one of the great duels of this event. This just shows how
UFC 265
tends to be special, giving us the opportunity to follow fights of this style, with two agile, aggressive fighters who like to complete their fights by submitting and knocking out their opponents. Talking about Chiesa is talking about submission, despite being undefeated for four fights, almost always getting the better by decision of the judges. We can describe
Vicente Luque
in practically the same way, and even a little more flattering, since the athlete is in a big phase, including being named as one of the best performances of the night in the last events in which he participated.
Bet: Vicente Luque wins | @1.90 on Bet365
MAIN CARD
Heavyweight: Derrick Lewis vs. Ciryl Gane
Bantamweight: José Aldo x Pedro Munhoz
Welterweight: Vicente Luque x Michael Chiesa
Bantamweight: Song Yadong vs. Casey Kenney
Lightweight: Bobby Green vs Rafael Fiziev
PRELIMINARY CARD
Flyweight: Manel Kape x Ode Osbourne
Strawweight: Tecia Torres x Angela Hill
Flyweight: Victoria Leonardo x Melissa Gatto
Light heavyweight: Alonzo Menifield vs. Ed Herman
Strawweight: Karolina Kowalkiewicz vs Jessica Penne
Bantamweight: Vince Morales vs Drako Rodriguez
Bantamweight: Johnny Muñoz vs Jamey Simmons
Bantamweight: Miles Johns vs Anderson Berinja
Bet on UFC fights through the best online bookmakers!