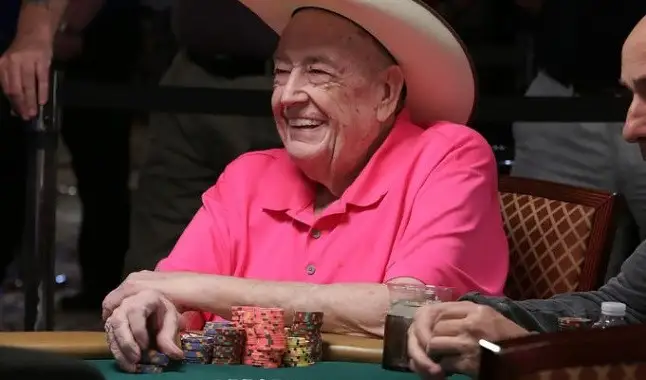 Living poker legend Doyle Brunson could win a documentary from the same creators as The Last Dance.
This past Wednesday, the world of poker received a big news for lovers of the sport, the living legend, Doyle Brunson, could win a documentary from the same creators of The Last Dance, a documentary dedicated to telling the story of Michael Jordan. The news about Brunson was announced through the legend's own social network, where the player confirmed that the creators of The Last Dance are creating a documentary about his journey in poker.


The decision to share the big news with fans of the sport was due to a follower who asked the player to tell more stories about his journey and moments of "
Texas Dolly
" in action.
Brunson
then replied that they are making a documentary about his life, and revealed that this work has been underway for a month.
"
They are making a documentary about my life now. It has been going on for a month and is going to be a lot longer. Same group that did The Last Dance is doing it.
"
After this comment, fans of the sport celebrated the big news. One of the enthusiasts was
Martin Jacobson
, who commented, "This will be great." Meanwhile, one of Brunson's followers commented, "I hope it's true. If it is, I can't wait to see it."
Today, at the height of his 88 years,
Brunson
is considered a living legend in the poker world, being one of the top names when it comes to
Texas Hold'em
. Keeping active in decades of the game's evolution,
Brunson
accumulates 10 World Series of Poker bracelets, along with legions of fans and millions billed in his journey.
Brunson
recently picked his four best poker players. The professional extremely known in the modality as "
Texas Dolly
", used his social network to choose his own "
Mount Roushmore
", monument in which the presidential faces of the United States can be found. At the time, Doyle commented that his personal "Mount Roushmore" would be composed of such legends as:
Chip Reese
,
Johnny Moss
,
Phil Ivey
and
Erik Seidel
.
In this episode,
Brunson
's statement ended up yielding several comments, including from
David Baker
. The professional commented on
Brunson
's choice, emphasizing that a list that did not have
Brunson
's own name would automatically be disqualified: "
Any Mount Rushmore list that doesn't include you is automatically disqualified from the contest.
"
Remember that last year
Doyle Brunson
had already chosen Chip Reese on another occasion. At the time,
Brunson
stated that
Chip Reese
was the best poker player of all time: "T
he best player of all time is Chip Reese. Nobody comes close.
" However, the statement by "
Texas Dolly
" made one of his own claim that Brunson considered
Stu Ungar
the greatest player of all time. However,
Doyle
went public to deny that line, arguing, "
I never said Stu was the best. I said he's the best winning player I've ever seen, but one of the worst losing players I've ever seen.
"
Soon after,
Erik Seidel
decided to respond to Brunson's statement, declaring that
Doyle
was being humble, as: "I always felt that even though Chip is great, you're not considering yourself. A really extraordinary poker mind, and remains active."
Although
Chip Reese
is constantly on
Brunson
's rosters, the legendary player ended up passing away in 2007, aged 56. Up until the end of his life, Reese had won three
WSOP
bracelets and $4 million in poker profit.
Play now at the biggest online poker house in the world, PokerStars!
Discover the best online sports bookmakers!