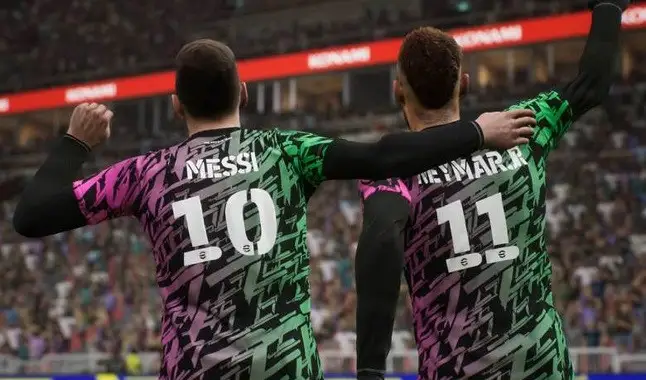 Replacing the PES franchise, eFootball 2022 already has a release date.
During these nine months of 2021, e-football lovers were biting their nails for the launch of the new PES, however, players received a surprise when Konami announced that PES would be replaced by another name, and the new eFootball 2022 already has release date.


Konami's new title, which will replace
PES
definitively, is set to be released later this month, on September 30th. According to the developer itself, the game will support
PlayStation 5
,
PlayStation 4,
Xbox Series X
,
Xbox Series S
,
Xbox One
and
PC platforms
. The new game format, which simulates football on the turf in the virtual world, will initially feature nine teams and Konami revealed that it will be "Just a test of the what is to come".
The developer stated that
eFootball 2022
is not yet in its final phase. Therefore, there will still be a lot of news ahead. Among them, Konami reported that the game will follow a different method, as well as
League of Legends
and
Valorant
, where
eFootball 2022
will be free and over the months will gain new updates, to improve the game and fix some bugs. In addition, the developer also announced that there will be a mobile version for eFootball 2022 by the end of the year.
Thus, on September 30th,
eFootball 2022
will arrive for the available platforms and will feature two gameplay options. The first one is the "offline" option, where the player will face Artificial Intelligence and friends on the same console. The second option will be the "online" format, where the player will be able to enjoy the crossplay mode, so that a PlayStation 5 player can play with an Xbox One player, for example.
Including the Brazilian teams
Flamengo
,
Corinthians
and
São Paulo
, players will be able to play offline with foreign clubs such as:
Barcelona
,
​​Bayern Munich
,
Juventus
,
Manchester United
,
Arsenal
and
River Plate
. In terms of stadiums, the version will be available for
Camp Nou
,
Old Trafford
,
Juventus Stadium
,
Emirates Stadium
,
Allianz Arena
and
eFootball Stadium
.
In the specs revealed by
Konami
, five types of players are available for the game, namely:
"
Standard: Players are based on their performance during the current season. Can only be purchased with eFootball Coins or GP.

Trending: Players are based on a specific match or week in which they put an impressive performance during this season.

Featured: Hand-picked players that are depicted based on their performance during the current season.

Legendary: Players are based on a specific season when they had a stellar performance (This also includes retired players who had a brilliant career)
"
On the issue of mobile game development, whoever has installed
PES 2021
,
eFootball 2022
will arrive as an update for the current game. In addition,
eFootball 2022
will bring new mechanics and features to users, and over time players will be able to make their item transactions to make eFootball 2022 official. Android and iOS system devices.
The definitive and complete release of
eFootball 2022
does not have a projected date yet, however
Konami
is working to bring constant updates to the game, so that players can edit their teams, logos, uniforms and other resources that the game will make available. Through this, there will be a series of adaptations to the game, as players from different platforms will be able to play together in their fun times.
Bet from wherever you are in eSports through the best online bookmakers!